In 2014, in Kyrgyzstan, a draft law was introduced that would criminalise any public positive portrayal of so-called "non-traditional" relationships. In the end, thanks to international awareness and pressure, the "anti-propaganda" law bill was blocked despite two parliamentary readings. This attracted media coverage but unfortunately the coverage focused only on the difficulties faced by LGBTIQ+ communities.
A local activist Dastan Kasmamytov decided to change this depressing narrative by creating the campaign called 'Pink Summits' to highlight positive actions by showing the achievements of queer people in sport.

On Mont Blanc, France
What was the background context to this campaign?
At the time, even though the anti-propaganda law was not adopted, international media still focused only on the problems of LGBTIQ+ people. Of course, violence and discrimination were part of our lives, but there were other things too. I realised that I wanted to change this narrative, to show that we are not 'just' victims of violence and discrimination. Despite all the difficulties, our community consists of amazing people who have inspiring stories. People who keep living and loving, and who want to support others.
For example, I am a keen mountaineer and rock-climber and I wanted to present my story from a positive angle. I was part of a mountaineering and rock-climbing club in Bishkek and I was also a public activist. I was featured in the Human Rights Watch report, which meant that people recognised me in the street. This obviously led to some unpleasant situations as well. Mountains were a means of escape for me: escape from problems and an opportunity to be at one with myself. In the mountains I felt freer than in Bishkek because there were no police, no homophobes. At that time, people were the biggest danger.
How did the idea of a campaign come to life?
The idea to connect mountaineering to activism happened later, when I was travelling from Kyrgyzstan to Germany by bike. On my journey, I set out to collect stories from LGBTIQ+ people, positive stories, but my plan didn't come to fruition because of the shortage of time. Still, I met a lot of wonderful people and one day I heard the story of a climber from Kazakhstan who wanted to conquer the seven highest mountain peaks of the world. I instantly thought that this could be my goal too! At that same moment I decided that it would be great to combine it with activism, to help LGBTIQ+ visibility in my country.
I started the campaign on my own, but gradually, other people from other countries joined me. In fact, we are still looking for new team members and any queer person over 18 can apply*.
We are open to new ideas. Suggestions are welcome for any events related to sports, from bike races to hiking tours.
For example, in 2021 and 2022, in partnership with Kyrgyz Indigo, we organized Prides in the Kyrgyzstan mountains. We taught the local queer community rock-climbing and trekking. It was amazing! Unfortunately, unlike in Europe, there are no similar regular events for the LGBTIQ+ community in our region. Yet, such events are very important as they deepen relationships between people. And of course, it is an opportunity to be 'at one with yourself' as I mentioned before.
What activities have you got lined up?
We are fighting for LGBTIQ+ visibility through sports. The campaign includes expeditions to the highest summits on each continent, and events held with support from local organisations. By setting up these events, we create a discussion platform and bring local queer communities together, whilst increasing the visibility of LGBTIQ+ people in general and particularly in sports.
When we reach a summit, we plant a rainbow flag there. But that's not the final goal. A lot happens before and after these expeditions. The campaign really has two equal parts: the expeditions on one part, and events with local communities on the other. Everywhere we go, we contact local organisations whenever possible (for example, in Russia, we couldn't do it).
Our joint activities include meetings to exchange experiences and opinions as well as organising sports events like cycling, hiking, and rock-climbing depending on the location. We decided to broaden the initial focus of our campaign when we realised that many queer people who don't do rock-climbing are interested in other outdoor sports, and also have interesting stories to share.
Sometimes we engage in protest actions. For example, we climbed the Vladimir Putin Peak in Kyrgyzstan with rainbow flags and a Ukranian flag as a protest both against Putin's homophobic views and his war politics.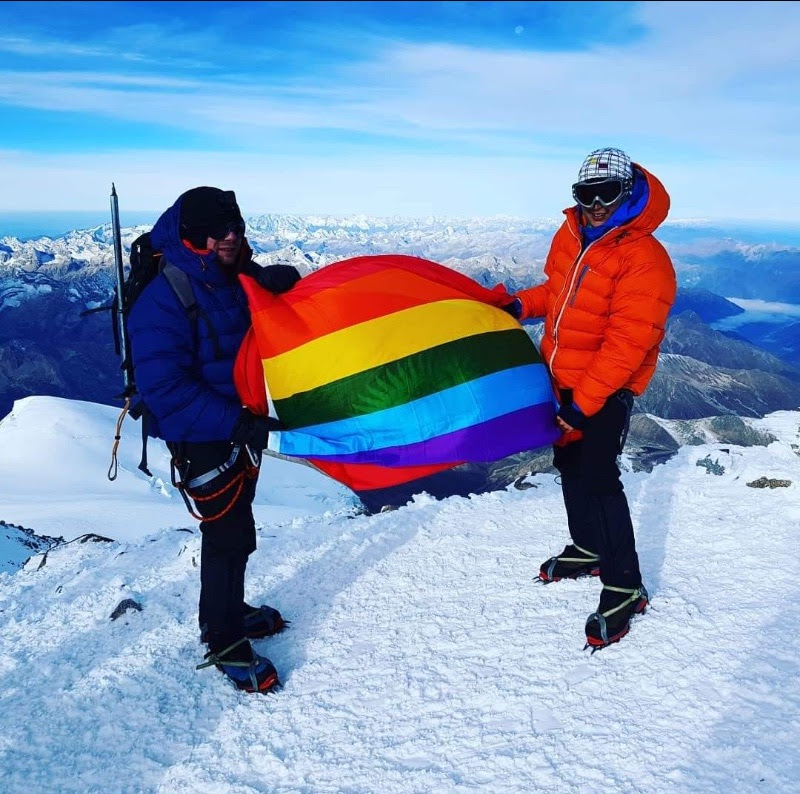 On top of Mount Elbrus, Russia
Where are you now regarding your Seven Summit goal?
The highest mountain in South Asia, Puncak Jaya in Indonesia, the highest mountain in North America, Denali in Alaska, and of course Mount Everest, have all still to be conquered. We dream of climbing expeditions in Antarctica, but I'm not sure we'll be able to get there.
On your website, several partners are mentioned, including businesses and NGOs. How did these collaborations come about?
We mostly finance our activities ourselves, with our own money. It is extremely difficult to find financing for expeditions. The first expeditions were funded 100% from our own contributions. Then Meta (it was still Facebook then) gave us a drone. It's very little, but still it helped. We also organised several events with the clothing brand North Face. Osprey was our first major official sponsor; it provided support for our expeditions. The great thing about this was that Osprey contacted us spontaneously to offer help. This is very rare!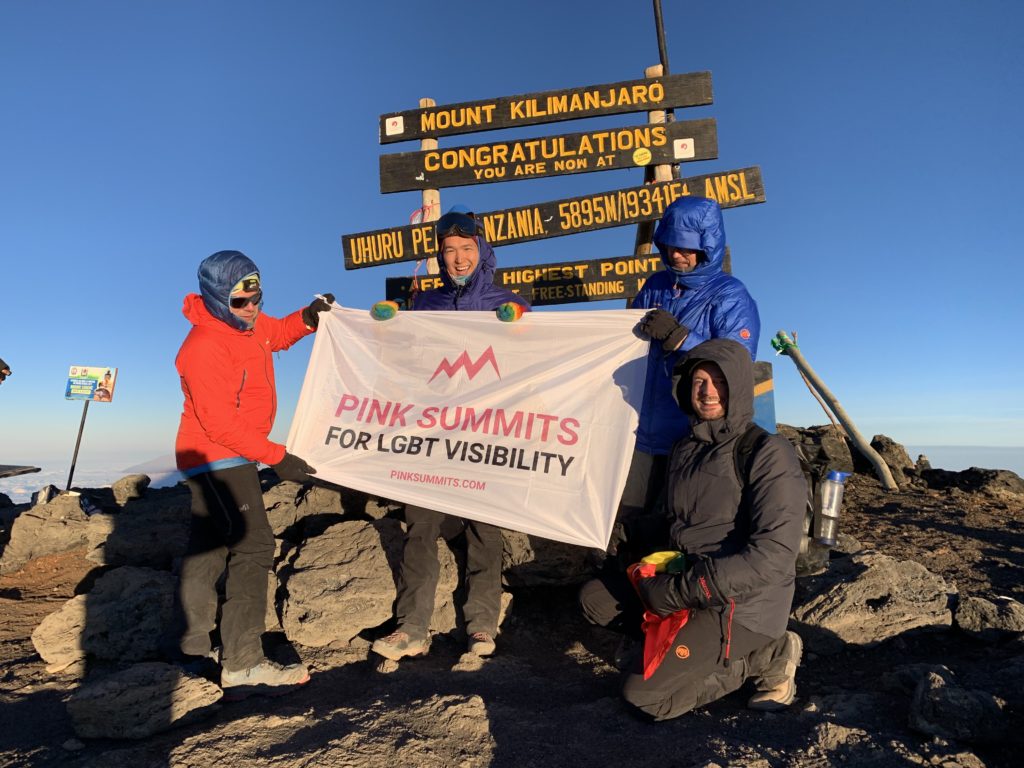 On top of Kilimanjaro, Kenya
How much coverage do you get for the campaign? What's your communication strategy?
We contact journalists for each big event or following a major achievement. This is mainly my responsibility, and I have a list that I've been compiling for years. Surprisingly enough, most of the coverage we get is in foreign media. The media from Central Asia and Russia ignore us. Even when we did our protest on the Vladimir Putin Peak there was no reaction. I find it really strange, especially because these media cover the LGBTIQ+ agenda in European countries, but when it comes to local events they are silent.
There's a big focus on social media and we talk about our activities at various events and conferences. This helps to raise awareness and increase visibility.
The reaction to our campaign has been mixed. We get a lot of hateful comments from Russian-speaking people, at events and in direct messages but we respond by explaining that we turn hate into love. I document the comments, which helps fundraise to fight against homophobic and transphobic hate. The more hateful comments we receive, the more money I can raise for an event such as that in Kyrgyzstan. I always reply to these 'haters' that the more vocal they are, the more energy I have to take positive action.
Will the campaign reach a point where you'll say: ok, now we can stop?
The campaign has been going for 5 years now. Our first expedition took place in 2018.
At the beginning, we thought we would stop after reaching the seven summits but the feedback we got persuaded us to carry on, to keep holding events and creating a vibrant queer community interested in sport.
Our current goal is to organise regular events for the queer community in Kyrgyzstan, Kazakhstan and other countries, more frequently than once a year.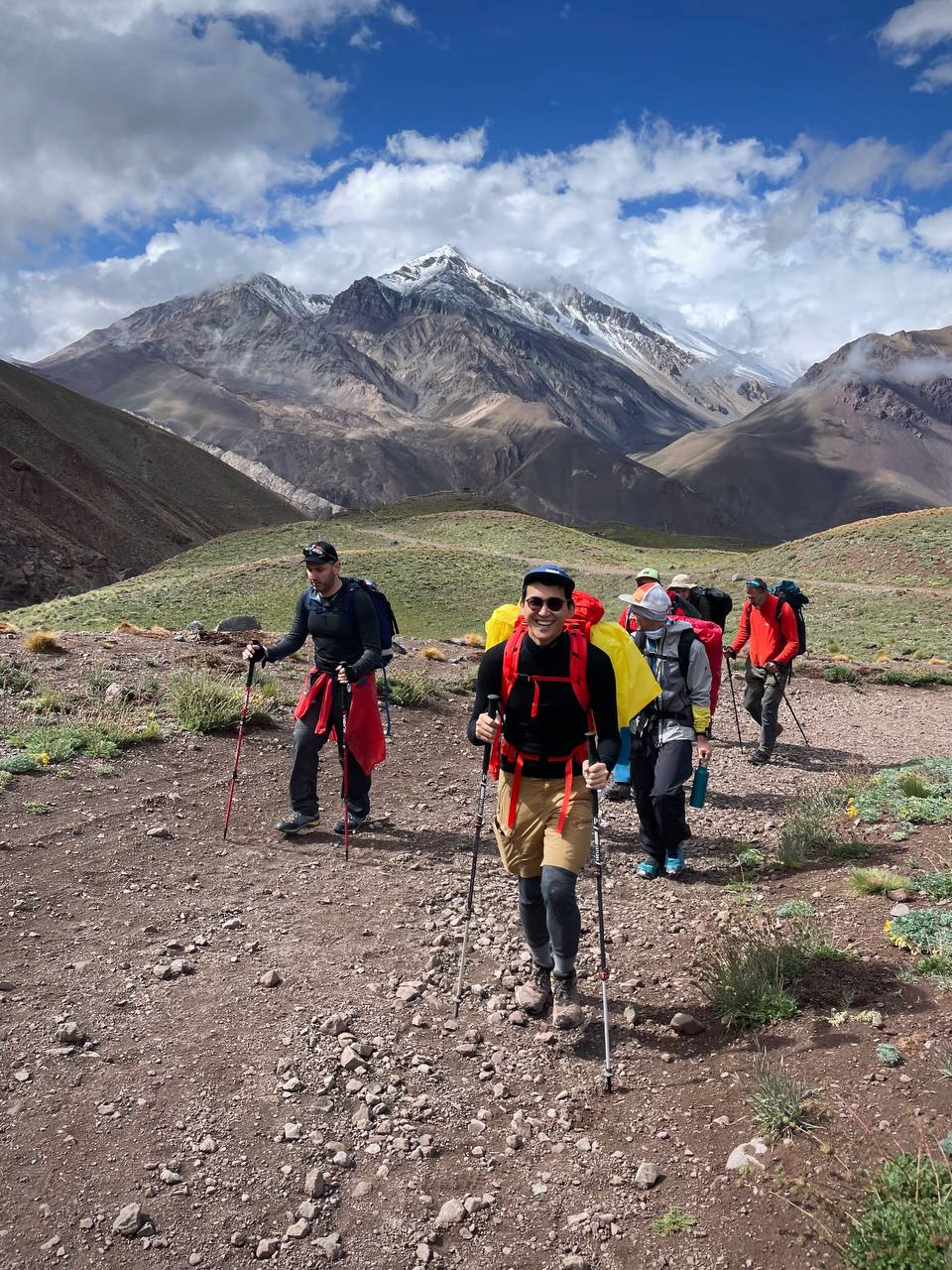 Ascending Aconcagua, Argentina
What has been the most successful event so far? The one that drew most attention?
The expedition that attracted the most attention was on Mount Elbrus in a dangerous region near Chechnya. Fortunately, I knew what to expect. We had problems with Customs when we entered Russia, but it all ended well.
It felt so great to reach the summit and take the rainbow flag to the top. We had a tremendous sense of achievement to do it in such a region, especially as this was one of our first ascents. But, to be honest, each summit has its own story: from difficulties related to the weather conditions to the sense of pride in getting to the top.
*We know that it is an expensive activity, so, with the support of Osprey, we've raised around 3,000 euros to offer sponsorship for new team members.
Can you share some lessons learnt?
The first thing we learned is that you shouldn't be pessimistic and expect refusals as this discourages you from contacting people. Instead, you should reach out and just see what happens.
Another thing is to never let homophobic and transphobic comments demoralise you. Instead turn them into something positive. Tell these people: thank you, your comment has just helped us raise more funds for our campaign.
Money is a big challenge. To manage finances effectively, start with small things, less expensive expeditions, and later more support will come.
Expect activism to require organisation and discipline. Our campaign is like a second job, unpaid.
Last but not least: a campaign should be based on a personal story. You need to know why you are personally involved in it, why it is important for you. It helps with discipline and motivation.
Related tactics
A campaign by the Planned Parenthood Federation invited Pro-choice supporters to pledge to donate a certain amount for each person who picketed an abortion clinic. So the more protesters were recorded, the more PPF got funded!
This case study presents artists who cover up hate words in creative design