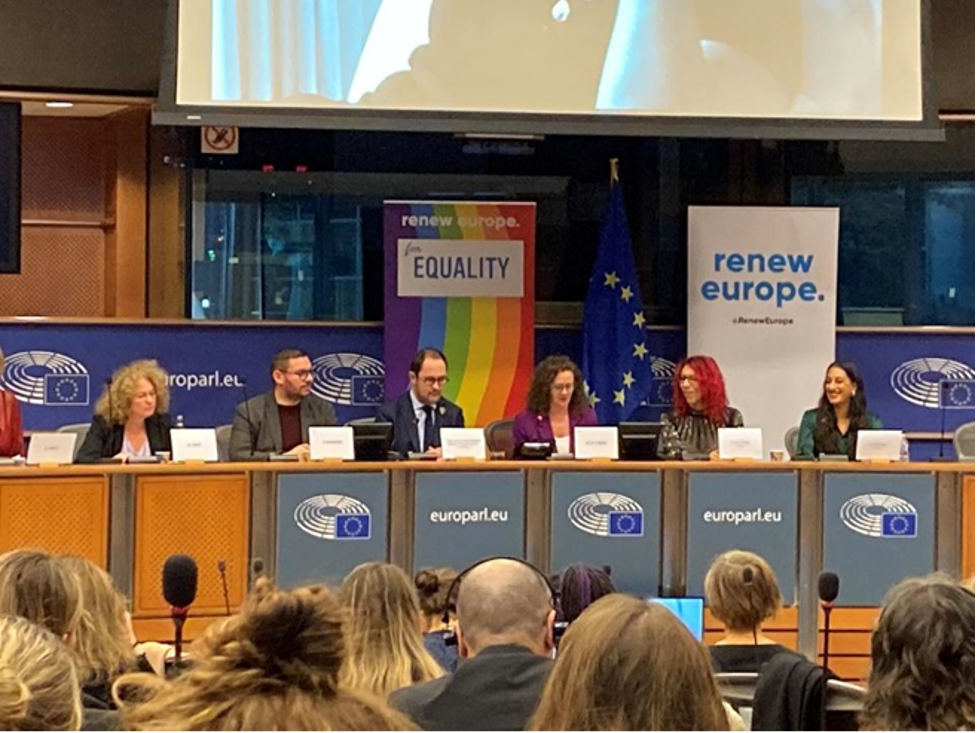 (Photo credit: European Sex Workers' Rights Alliance)
This article was written by Julia Lukomnik for Sogicampaigns
The European Parliament
The EP is the European Union's (EU) legislative body, tasked with making and passing laws, overseeing EU institutions, and voting on the EU budget. Its Directives are of crucial importance to guide EU members' laws and are therefore the centre of much policy and lobby attention. For the European Sex Workers' Rights Alliance, the inclusion of sex workers' needs in a forthcoming EP Directive on Violence Against Women was a crucial focus.
But sex workers' issues are not an easy topic. Many politicians on the right demonize sex work in an attempt to gain popularity by inciting moral panic, while many politicians on the left promote criminalizing sex workers' clients to shore up support from certain feminists, despite the fact that these policies hurt sex workers of all genders.
So how did ESWA manage to bring together MEPs from almost every party in the EP? Through thoughtful coalition-building work and strategic message-crafting and delivery.
Coalition Building
For ESWA, intersectionality was a key approach in coalition building. To build a common understanding, ESWA broke down the impact of current policies on sex workers: over policing, criminalization, and lack of access to appropriate services. When the conversation was about how people experienced laws rather than specific identities, migrants' rights and racial justice activists found a deep connection to the issues. As Luca Stevenson, Director of Programmes at ESWA explains, even if there's an initial hesitancy, "if the organization is rights based and committed to evidence-based policy, then at least there is a neutral terrain that we can start to work on."
Often, ESWA joined other movements, like the LGBTQI+ umbrella body ILGA, in order to raise awareness from inside, through participating at congresses and gatherings.
It's #InternationalSexWorkersDay – and it's #PrideMonth!

To mark the occasion, we asked some leading LGBTI+ activists at the @ILGAWorld conference about their support for sex worker rights.
#LGBTIfordecrim

1/4 pic.twitter.com/1HQJKoespg

— ESWA (@sexworkeurope) June 2, 2022
Strategic Message-Crafting and Delivery
In late 2022, members of the European Parliament (MEPs), sex workers, and their allies gathered at the European Parliament (EP) to debate human rights approaches to regulating sex work.
Building off of this momentum, ESWA launched the #CoalitionAgainstCriminalisation  policy campaign targeting MEPs in an alliance with 16 members representing human rights groups, sex workers rights groups, migrant rights groups, SOGI rights groups, and others.
Sex workers' rights are human rights. Decriminalization is a critical step to ending violence against sex workers.

The EU must protect sex workers' rights in the proposed VAW Directive.#CoalitionAgainstCriminalisation

Read more: https://t.co/u3KcxHQ1ZA pic.twitter.com/Uay0YQmiz1

— Human Rights Watch (@hrw) January 17, 2023
The support of key authoritative allies – like Human Rights Watch and Amnesty International – helped secure the support from over 170 civil society organizations, and attracted media attention.
The wide array of members has helped the Coalition bring its message to MEPs. According to Luca Stevenson, "When we as sex workers speak to policy makers, they will often ignore us." However, MEPs trust Coalition members like the International Planned Parenthood Federation (IPPF) and the European Network Against Racism (ENAR). When IPPF or ENAR ask to speak to an MEP about sex workers rights, they open the door to a new conversation.
Focusing
With this tactic, the Coalition's message reached a significant number of MEPs and opened the door to building deeper relationships with them.  But with over 700 MEPs in the EP, the 16 Coalition members needed to be thoughtful of where they put their energy. The Coalition focused on trying "to convince the convincible and just not waste time dealing with people who are completely opposed."
Identifying the convincible relied on a careful analysis of the potential conflicts in MEPs' logic. For example, when a progressive MEP who opposes the criminalization of migrant communities named criminalization as an appropriate policy response to sex work, Coalition members who had been trying to speak with her for some time were finally able to start a conversation with her.
The important lesson here is that when you target policy makers, you should not only look at their position on your issue, but to look at all of their positions and identify where there is a conflict. Highlighting the conflict will be the way to win them over.
Other Key messaging lessons:
Who brings the message is key – find a voice that's trusted and that will be listened to
The message should be heard in multiple ways and from multiple angles to increase the likelihood that it will stick
Energy is best focused on the moveable middle, not groups who are ideologically opposed, however powerful they may be.