The Creative Change Laboratory is an initiative that mobilises artists from all different African countries to change the world through art.  Follow the guide, Project inspirer Gabriel Hoosain Khan. Bur first let's watch a short presentation of the project.
Gabriel, what inspiration is there behind this project?
Despite years of activism, we must admit that violence, injustice, stigma and discrimination are still rife.
The idea with the Creative Change Laboratory was to create a laboratory space where young people could experiment with new, innovative and creative approaches tailored to their contexts.
The Creative Change Laboratory is an incubator for artistic campaigns, not a campaign by itself.
We aim to give young people the tools to create effective campaigns that use arts as an approach.
Who were these young people? How were they selected?
Even though we were housed at UCT (University of Cape Town), the project wasn't aimed at UCT students. Most of the people who participated were people who lived on the margins of Cape Town. In particular we aimed at queer and trans youth, young women, indigenous people and people with disabilities.
In similar past initiative, I used to focus on one kind of community, either Queer & Trans Youth, or young women, or migrant & refugees. This time we had all of these different identities together  so it was all about negotiating between these groups, hearing each other out and not prioritizing one group over the other.
This lead to some very exciting intersectional work, for example Winnie – a Zimbabwean migrant – decided to focus on dark skinned Black women, as a way of talking not only about experiences of gender, but also of xenophobia.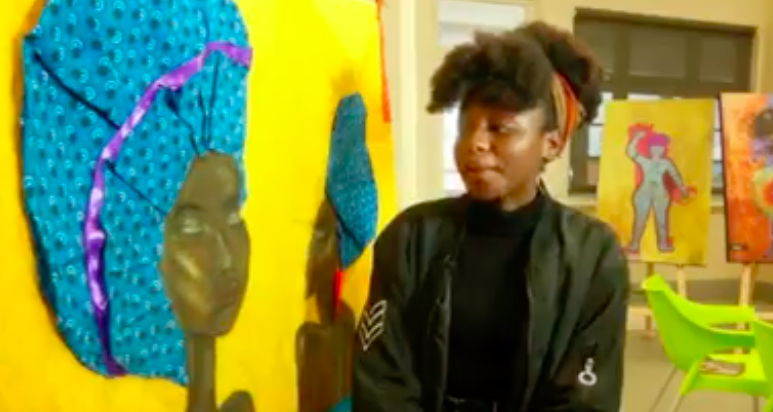 Click to watch video
While we do work with civil society organisations, and invited them to apply, only a third of participants came from NGOs. The others were young activists without a "base". It was really exciting since they came with ideas that we often don't think about when working in an established institution.
What was the creative process?
The program was divided in 3 blocks:
The Co-Think Block was about getting the group to analyze the problem/challenge in three layers: Individual, Social and Structural
The Co-Create Block got artists to experiment with various creative media: Visual Art, Interactive theatre, Photography & video, Writing & zine-making, Collecting & editing sound.
The Co-curate block was the final stage of the project where the creations were shared with a larger audience.
How did the artists develop their work?
Everyone worked from an analysis of their own context, and developed their creativity from there. Let's look at two examples:
For Masechaba Khoza, growing up in a township in South Africa where there are few green spaces leaves residents with too few spaces where they can connect with nature, and feel at peace & safe. So she came up with an idea that she called a green box, which is a mobile green space that can be taken to township communities. It is a green wooden box with plants inside, that people can enter. Inside, audio guides visitors through restorative meditation. 
What I really like about this, is that it analyses a very concrete problem and offers a tangible response. You know, sometimes we think that campaigns have to be big and expensive  – but it is okay if they are not. Even small initiatives can make a real difference.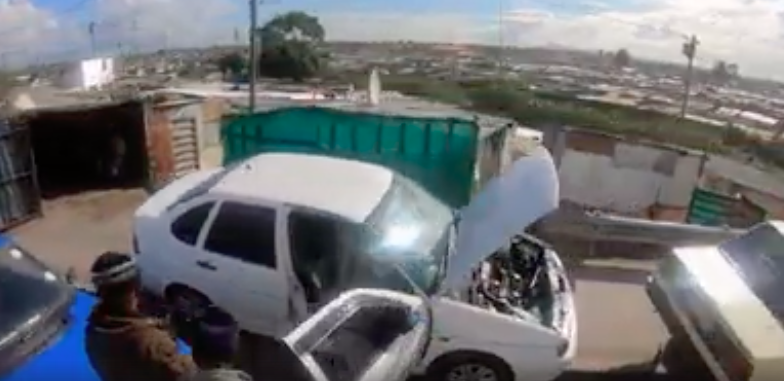 Click to watch video
Another example is the work of Amanda and Sydney, focused on gender based violence.
They both created intervention collaborating with survivors of gender based violence, Amanda created a project that cast the fists of survivors of gender based violence in plaster, and got them to  decorate it in a way to represent their struggle.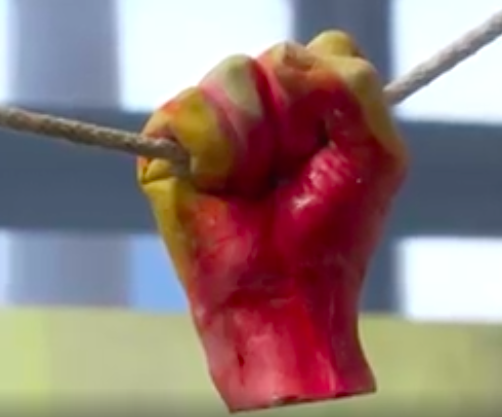 Click to watch video
Sidney did a doll making workshop, giving people the opportunity to process their emotions. The interesting thing about these initiatives is that these representations sparked new conversations on stories of abuse.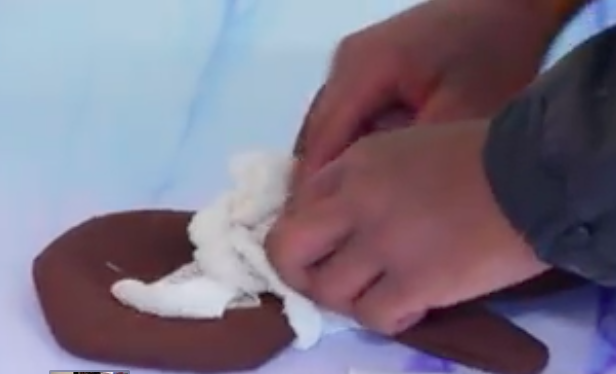 Click to watch video
So how does the Creative Lab operate?
The laboratory is both a physical space where a small group of young people can create tools or resources to build a campaign, and a digital safe space to get the message out there to a wider audience.
Let's start with the physical space. How does it operate?
The University of Cape Town (UCT) gave us access to a space that hosted the creative processes. The young participating artists had their creative space and access to a whole range of equipment and material such as Digital, cameras, visual art, paint, sound recording and editing, as well as writing support.
In total there were 56 full days of training in 2019.
Sadly, the campus is not easily accessible so we ended up having to also use other spaces in the city. 
And online?
We made a video of each artistic creation.  Between November 2019 and February 2020 we registered 400,000 impressions, and 41,000 engaged viewers who shared, commented or otherwise engaged more deeply with content, which is great given the limited budget we had. Using online space comes with its own dangers, though and some of the engagement we got was absolutely horrible, like racist and/or sexist trolls.
How was this project funded?
It was funded through the Facebook community leadership program, which started in 2019. The program focuses on online/offline connections in community building.
It was also hosted through the University of Cape Town, at the office for inclusivity and change, which provided a great range of support, the fiscal sponsorship, and access to venues as well as facilitators and other experts.
The Facebook funding also had other forms of support, in particular using the online spaces to reach a wide audience.  Part of the reason we reached 400,000 people was because they highlighted ways to do it effectively through paid ads and in person engagement (events we hosted). We also worked closely with Facebook to ensure the text and images used in posts effectively used the Facebook platforms.
For a full report on the project, watch the VIDEO REPORT