Capturing people's attention in our days of information overflow is every campaigners main struggle.
Previous articles in this section talked about how to use provocative comparisons (in this case weapons and dildos) or nudity to capture people's imagination.
But it's not always easy to judge how far you can go, all the more as this will depend on your target audience, but also on your identity as an organisation: an action that will be perceived as adequate when performed by Greenpeace is likely to be deemed "provocative" if done by WWF.
It is therefore essential to conduct regular test on your perception (as an organisation or, if you have no public profile, as your constituency or your cause, eg environmentalists, Trans people of Color, etc.) by your target group before you decide on a campaign action.
This action by ad agency Mc Kinney in North Carolina to print the text of the anti-Transgender bathroom Law on toilet paper is certainly one of these actions that flirt with the limits, which is where you have to be to capture attention.
North Carolina ad agency McKinney is one of the hundreds of local businesses who have come out against the law – and they're showing their disapproval in a unique way.
Since the law is so concerned with what you do in the bathroom, it can now get a front-row seat, after McKinney commissioned a line of toilet rolls featuring the entire text of the law.
The agency explained: "We did this in support of Equality NC's and Human Rights Campaign's efforts to encourage North Carolina residents to petition their legislators at StopHB2.org.
More details on Pinknews
CRAFTIVISM
Craftivism is referred to as 'gentle-campaigning' and it can be a great tactic to get your message out to a new audience or decision maker in a creative and unusual way. In this example, 'Don't blow it' was sewn into handkerchiefs and given to those with the power to make an important decision. This sort of tactic could be a great complement to advocacy strategies and even build relationships with new allies for your campaign. Sometimes, thinking of presenting your message in a unique way or with a different voice can make a big difference to being heard. READ MORE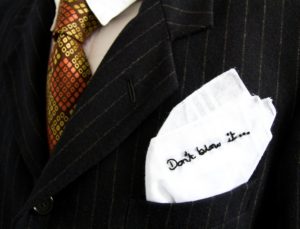 GREENPEACE – BAD TUNA
In this video, humour and cute cats (with Instagram followers than many of us!) came together in a perfect entertaining combination that helped get a message through to a whole new audience. Sometimes, it's worth considering if your message could be conveyed in a different way and humour always helps. Cute animals are all over the internet and a short video montage of them is super shareable.