Online protests are important, but sometimes you need to get your action offline. Be it to get more media attention, or to break the feeling of isolation that develops when you are only allowed to be "virtual".
But sometimes it can be too risky to actually hit the streets. Or it can be difficult to get enough participants to make your event impressive.
In this case, using images of people, rather than actual people, can be a good compromise between safety and impact.
Projecting images of people onto public buildings has often been used as a way to symbolically get these institutions to listen to the voices of these people.
The first time this tactic was used dates back to the September 2015 projection on the Spanish Parliament of a hologram video of people demonstrating. This action was done to protest against the Spanish law that threatened to limit the rights of the public to rally, so this was an excellent illustration of how the medium is also the means!
The format was later on taken up by Amnesty in Korea, where scores of "ghost protester" holograms marched in central Seoul to protest South Korean government's restriction on freedom of assembly and expression.
But this action requires a strong technological setup.
For activists with less resources, other forms of digital projection are possible.
In the Philippines, climate activists from 350.org conducted a virtual march in September 2018 to project the photos of more than 500 frontline communities, activists, students, artists, churchgoers, and other advocates for climate action in Quezon City.
The virtual march is a hologram protest that bridges online and offline activism by collecting photos through online submissions, and loading it into a Pixelstick a digital rod that projects light images for long exposure photography. Aside from online submissions, the photos came from the more than 30 communities and organizations engaged by 350.org.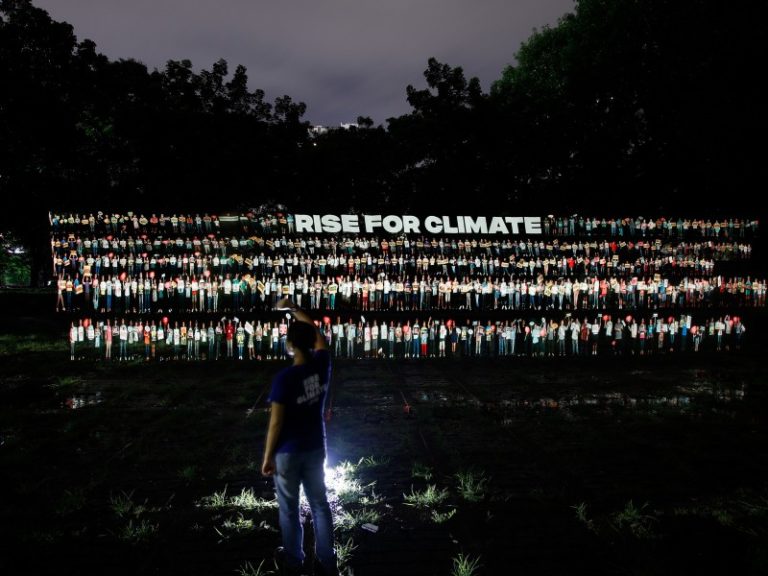 Braving the monsoon rains volunteers from 350 Pilipinas projected the images of more than 500 frontline communities, activists & other climate justice advocates in a virtual march as a build up to the upcoming global #RiseForClimate day of action. Photo: AC Dimatatac
In San Francisco, environment activists have also used animated projections to create a great emotional effect, bringing buildings to life. A great way to attract attention. In total safety.
The COVID-19 pandemic, by shutting down street action, generated a lot of alternative initiatives that used projections and holograms as media.
In Washington, USA, Visual artist Robin Bell projected photos of victims of COVID-19 onto a building along with messages from loved ones as a part of Covid Memorial, a digital archive honoring the deceased and those who mourn them. "Collectively, we're going through a loss. We're going through grief," says Bell. "There's something about taking a moment and acknowledging where we're at and acknowledging the people we have lost."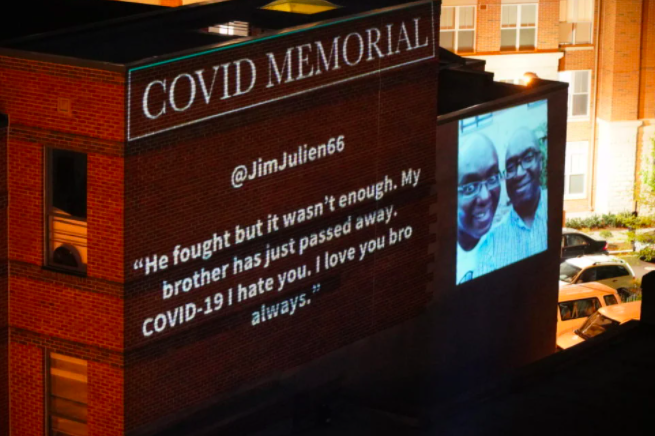 Photo by Sora Yamahira/Bellvisuals.com
In April Greenpeace Belgium protested in front of the EU Council building by projecting a hologram demonstration for the first time ever in Brussels. This action was staged to hold the EU government accountable to make our societies fairer, greener and more resilient to future crises.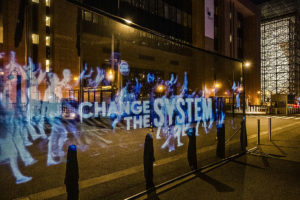 More pictures and reports here 
In early May, an image of hope glowed from a downtown Seattle office building. Urban artist Karl Read projected The DREAMER, an illumination of a flying boy, to praise health carers and essential workers around the globe (click on image to play video).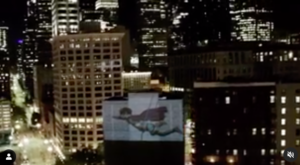 The art-activist collective The Illuminator has used large-scale projection interventions as its main strategy. To protest the response of the Trump administration to the pandemic, the group projected their demands onto a high rise building in Manhattan, including "CANCEL THE RENT," "Free Care for COVID," and "Healthcare for All".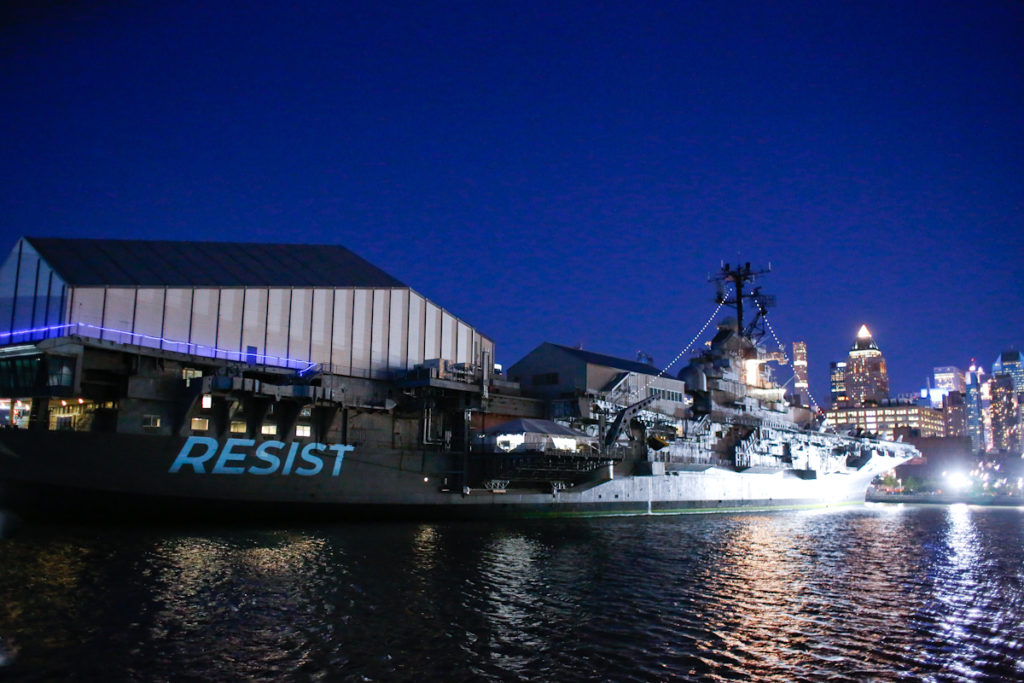 In Santiago, Chile the art design studio Delight Lab projected the words "Hunger" and "Humanity" on public buildings — though the effort was censored by the Chilean police. Digital art collective Projetemos in Brazil protested against the inadequate crisis response of president Bolsonaro, while Latin American art and activism collective Articiclo protested national healthcare limitations in Mexico and Argentina
Artist Hank Willis Thomas's project "The Writing on the Wall" spotlights the struggles of those incarcerated during the pandemic. Thomas projected the messages — which were written by people in jail — onto the criminal justice buildings in downtown Manhattan.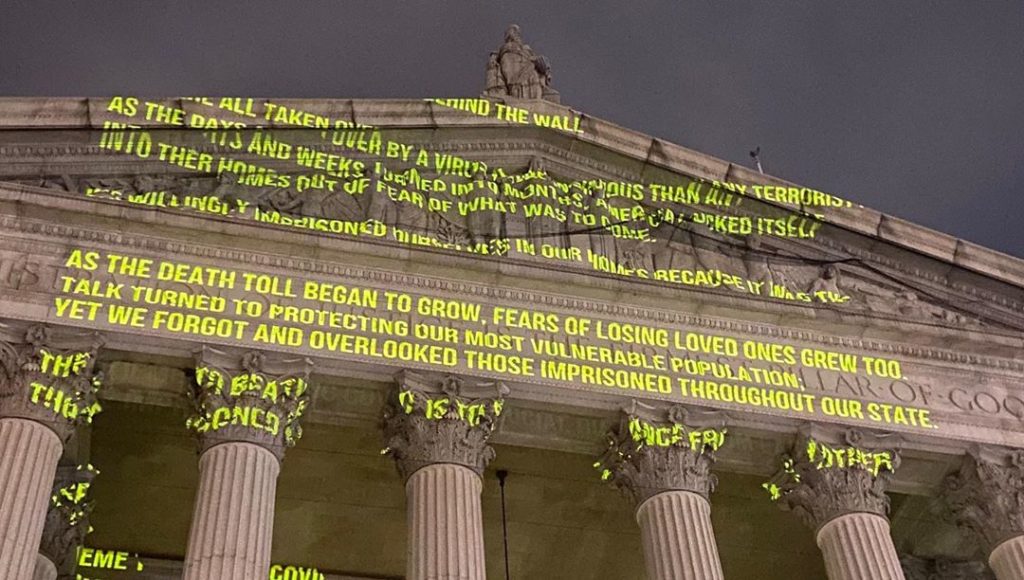 But projection initiatives are not limited to tech savvy organisations.
The resurgence of community spirit has shown people can — and will — come together to offer each other support during the crisis. Viral videos show films being projected onto neighborhood walls to keep inhabitants entertained, especially in countries where restrictions are strictest.
The Italian organization Alice nella Città inspired people to project movies onto their neighboring buildings. Soon classic films such as Dead Poets Society and La Dolce Vita brought a moment of joy when they were projected in the cities of Rome, Palermo, and Turin. 
Similar projects took place in Berlin, Paris, Bogotá, Madrid, Rio de Janeiro, and Cork, Ireland.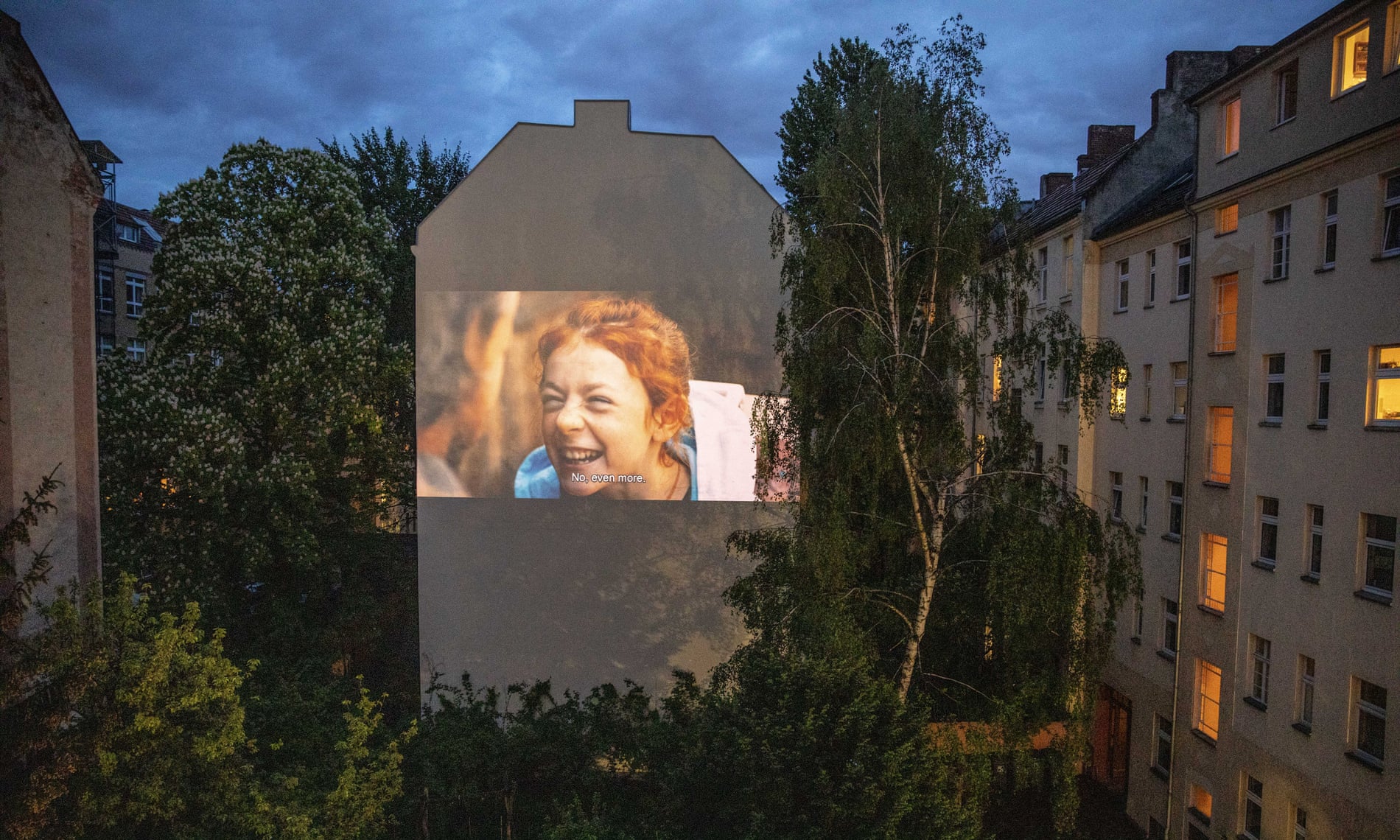 In the UK, National Health Service staff have made a plea to the Government for more personal protective equipment (PPE) in a video projected onto the Palace of Westminster. "Prime Minister, we're happy to hear that you've recovered from Covid-19… The NHS saved your life. Now we need you to save ours," the video begins. The projection, organised by political protest group Led by Donkeys, was set up by a two-person team who arrived separately and observed strict social distancing throughout.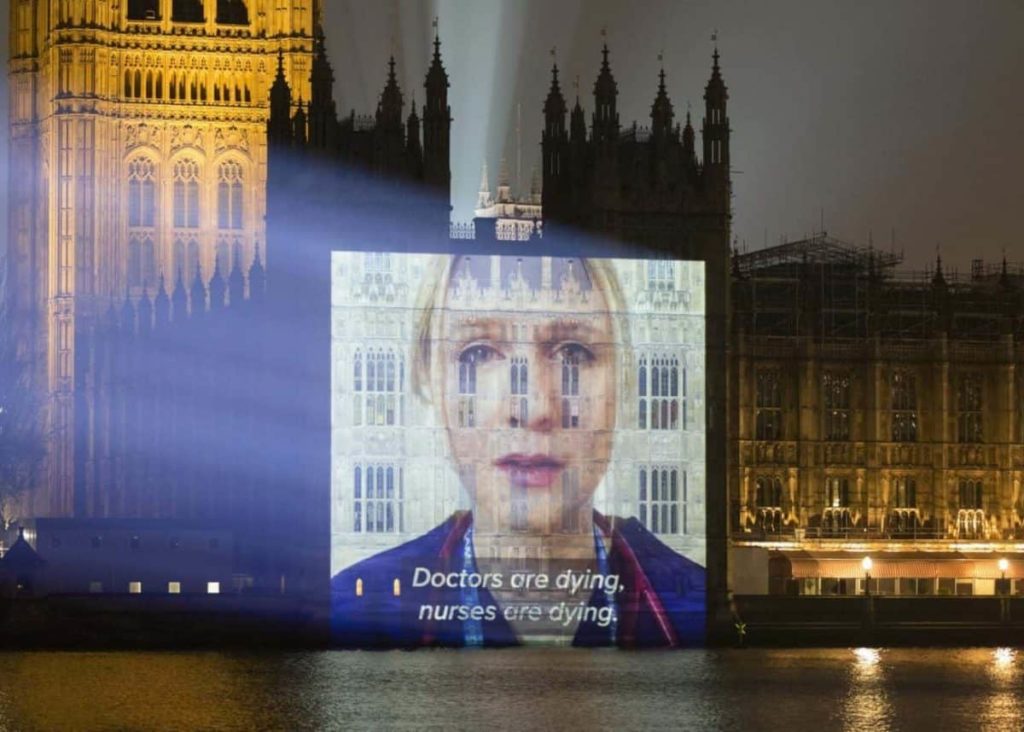 Watch the full projection on Twitter :
Note: Public authorities have of course been using this tactic too. From Paris' Eiffel tower to Tehran's Azadi (Freedom) Tower, Dubai's Burj Khalifa or Rio De Janeiro's statue of Christ the Redeemer, many iconic buildings have been lit up to show support to health care workers. We are not expanding on this, as these are not protest actions.