India in 2018, after a long political struggle, scrapped Section 377 of their Penal Code, which criminalized homosexual behaviour. This inspired legal reform campaigns in other parts of Asia. Notably in Singapore, also a former British colony. 
Ready4Repeal, an online movement calling for the repeal of Section 377A of Singapore's Penal Code, was established
In September of 2018, an online petition was launched which garnered 44,650 signatures from Singaporeans and Singapore Permanent Resident.However, in a saddening turn of events the Ministries of Home Affairs and Law made it clear that there is no plans to repeal that section. This is not the first time that a petition was initiated. Back in 2007, a petition to repeal the law gained 8,120 signatures in an open letter to the prime minister and 2,341 signatures in a parliamentary petition.
Though the law was hardly ever enforced, the petition's authors, Glen Goei and Johannes Hadi, called on members of the LGBTIQ community to demand that their Members of Parliament (MPs) repealled this unjust law.
In a town hall session organized by activists, Lawyer Remy Choo, who is part of the Ready4Repeal team, told TODAY that: "(The movement) cuts across political sensibilities…(and) partisan politics. I think we have made it clear that it is not a political issue. It is an issue of removing a bad law."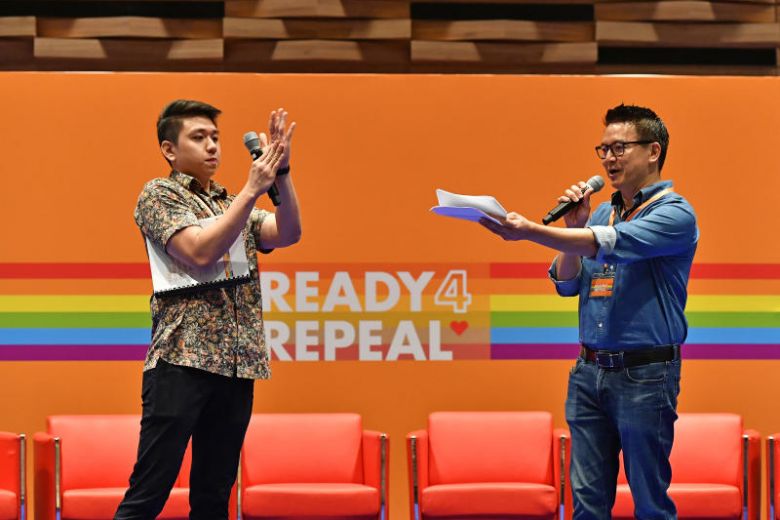 ST PHOTO- CHONG JUN LIANG
However, the LGBTIQ community in Singapore has found support in other places. The Buddhist Fellowship announced that they support the repeal of Section 377A on the ground that Buddhist teaching espouses empathy, compassion and understanding. While the support for other rights such as marriage equality is gaining approval from younger Singgaporeans. A recent economic agreement on free trade and investmentsbetween the European Union (EU) and Singapore also highlighted the need to abolish laws penalising same-sex sexual relationships and ascertain full protections for LGBTIQ and women's rights.
Like other campaigns, this one relies heavily on several strategies: First, community-led actions through storytelling of personal experiences which can be used as a political motivation to convince MPs of the need to repeal the law. Second, petition campaigns which call on citizens of the country to sign an appeal. In this case the petition can be signed over the GoPetitions website with multiple translations into several languages spoken by the various Singaporean communities.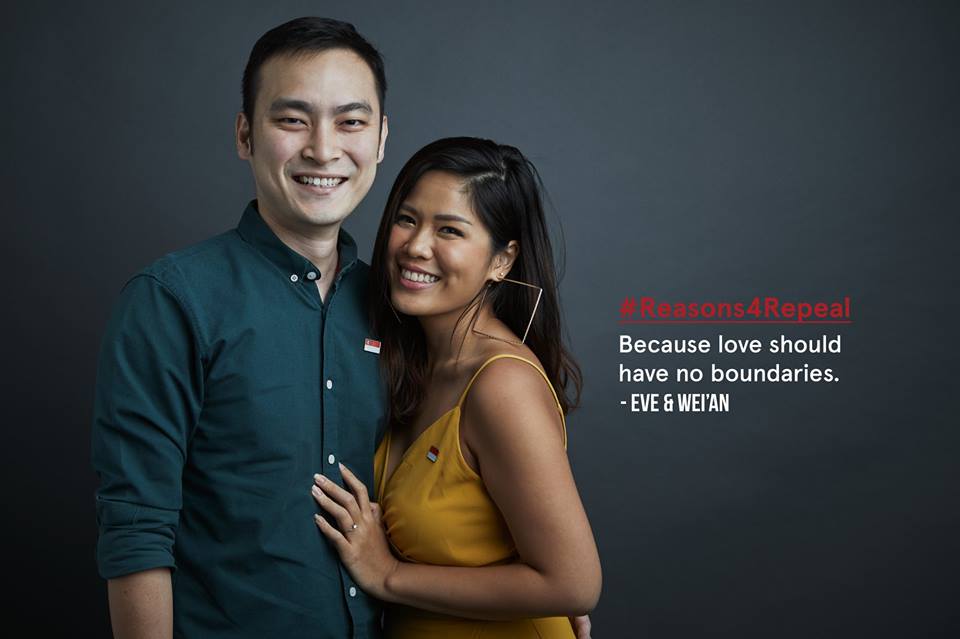 The campaign has a strong social media presence as well, visible in the Facebook page of Ready4Repeal. Another page called, "Dear Straight People", gained much needed social media traction for the campaign by organizing a photoshoot called #Reasons4Repeal, showing Singaporean citizens (both heterosexual and queer) supporting the repeal of the law. 
For many observers, Singapore's future is now only a few steps away from being brighter for LGBT citizens.