How to launch a successful donation campaign to provide humanitarian aid in times of war
An interview with Taia Gerasimova, from Insight Ukraine
Insight, a LGBTQ+ and feminist organization in Ukraine, was created in 2008. Before the war, Insight's main role was political advocacy, raising public awareness, building communities and offering psychological and legal help.
Today our team has two distinct "brands" : one for the LGBTQ+ community ("Insight NGO"),and the other for women's rights ("Women's March"). This allows us to disseminate information that is specific to each audience.
When the war started, we focused our attention on providing humanitarian aid to our communities in Ukraine – LGBTQ+ and Women. We reached out to these communities mainly via social media. We constantly reminded the audiences that help and support was available and that they could rely on us for help with relocation, delivery of medicines and hormones as well as psychological and legal help.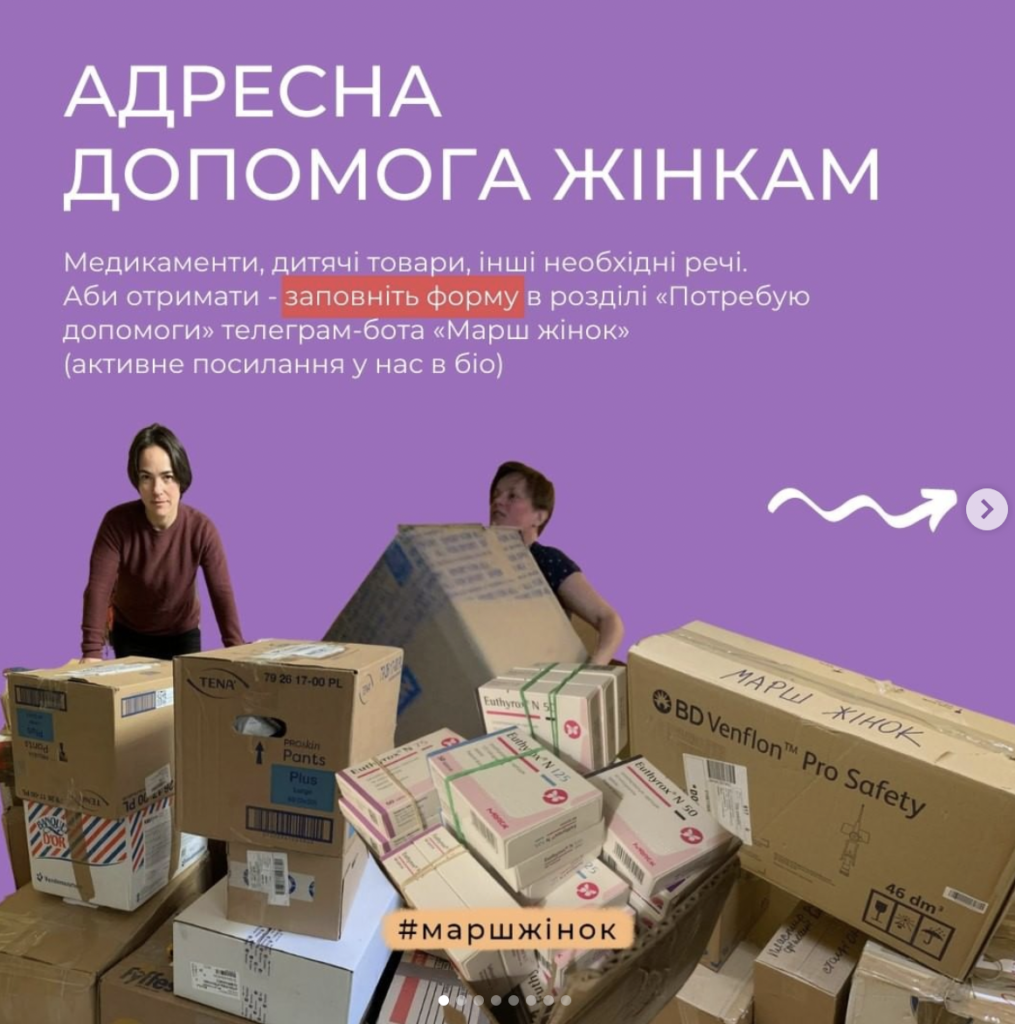 "Women's March provides help directly to women deprived of basic needs due to Russian aggression."
Our help posts went viral.  We received thousands of requests for help every day, especially from women with kids and women looking after elderly relatives. Our volunteers were sending out nearly 100 parcels a day with medicine, baby and hygiene products, food and clothes.
We also launched a Help-Bot giving 24/7 psychological support and we opened two safe spaces in the West of Ukraine. Since the early days of the invasion, we have been helping people to relocate to other countries or to move to safer areas in western Ukraine. We have been providing hormones for T* people and maintaining legal support. Obviously such initiatives require financial support so we started fund raising activities immediately after the Russian invasion began.
Despite being well-established with a presence across different regions of the country and a significant audience on social media, Insight never relied on donations from the Ukrainian public. Historically in Ukraine, there isn't a culture of private financial support for Civil Society, so before the war we didn't invest resources in campaigning for public donations but rather turned our focus towards international audiences.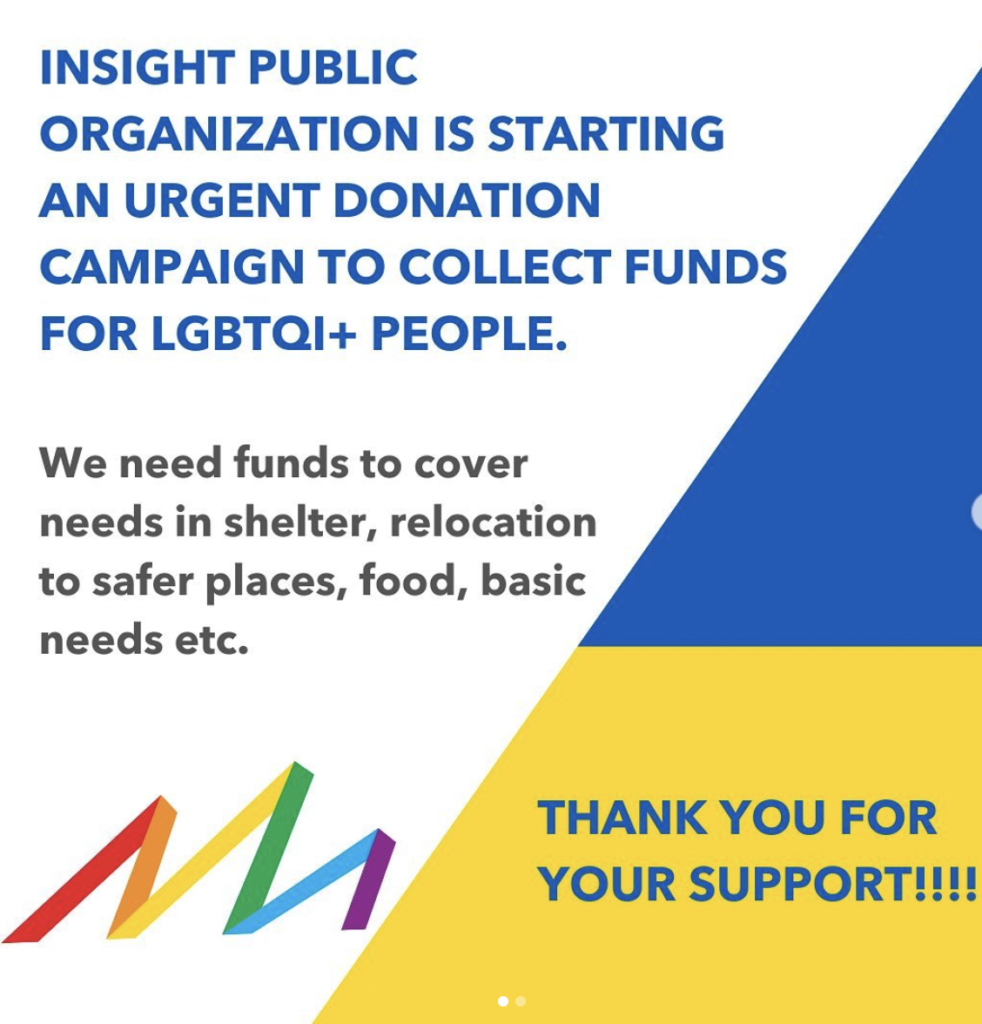 We concentrated our efforts on our website and Search Engine Optimisation (SEO). This resulted in a nice, clear presentation of our activities in both English and Ukrainian, which helps to establish credibility with new audiences. Thanks to the successful SEO strategy for Insight's website, we saw a huge increase in visitors, mainly from the USA, the United Kingdom, Germany and Canada.
We spent a lot of time redesigning the presentation of the "donation page". Initially there were just a few sentences about the Russian invasion, the fact that a lot of people had to flee their homes and a call to donate to support LGBTQ+ communities. It was a simple website page with a donate button. Over the following two weeks we added more concrete information and details about our activities.
We published stories of lived realities of women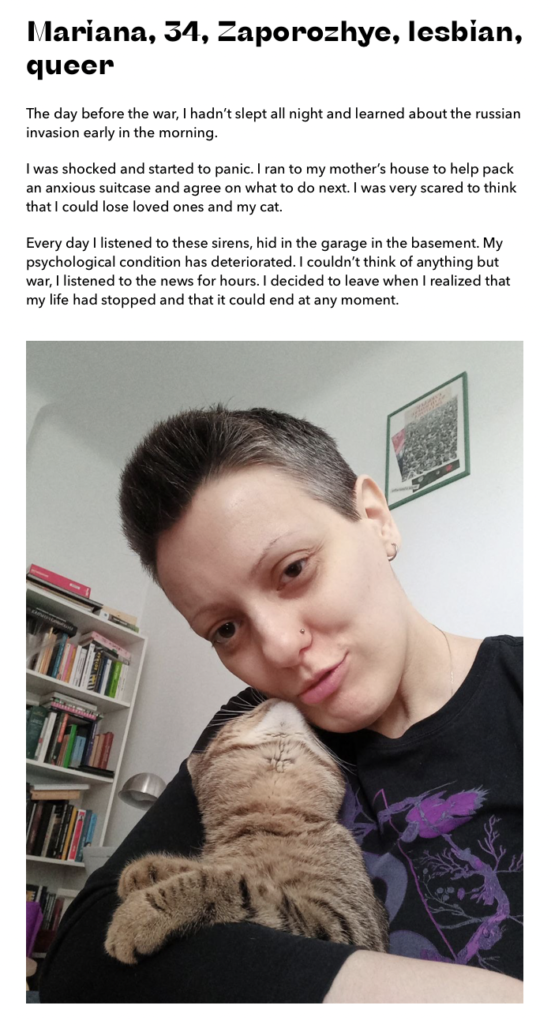 In the first two weeks we collected about 55 000 euros and a total of 77 000 euro during the first month.
Later we published a report on the first three months of activities and highlighted the total amount of funds that had been collected from the public.
For Women's March we created multi-language posts on Instagram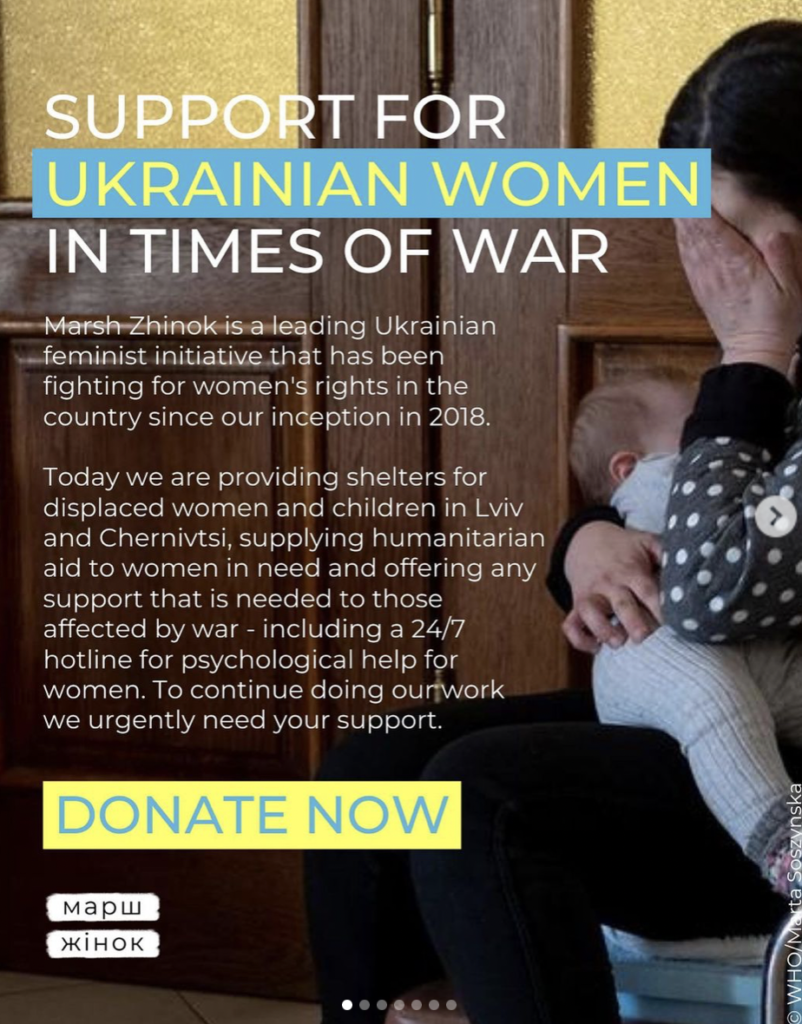 We also focused on uplifting stories of solidarity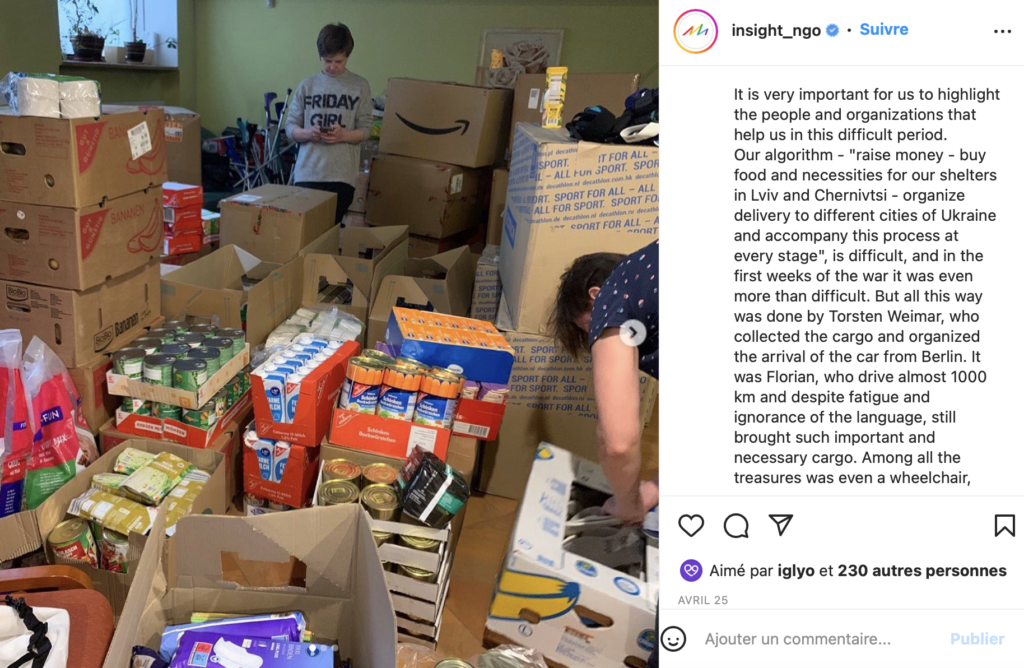 In addition to this direct fundraising, several international charities and campaign platforms supported our activities by raising money through their own sources. All Out ran a fundraising campaign for Ukrainian LGBTQ+ organizations and distributed the raised funds between several Ukrainian organizations, Benevity offered to use its platform, where we were able to collect more than 13 000$. Our humanitarian hub received deliveries of medicine and goods from partners: EL*C, Accept Romania, Razom for Ukraine and many others.
After about two months, donations began to tail off. This was to be expected, as public interest in the situation in Ukraine began to dwindle. So, after several months of targeting a mainly foreign audience for donations, we turned our attention onto the Ukrainians themselves.
Over the last three months, we have continued to engage with both foreign and Ukrainian audiences.  We also receive small donations from private donors which cover about 40% of the needs of the humanitarian hub.
Compared to the early days of the war when donations were coming in fast on a daily basis with minimal effort from our side, we are now observing a direct link between our social medial activity and receipt of donations. This is an encouraging sign because it means that our tactics for raising awareness on Facebook, Instagram and Telegram seem to be working.
One essential lesson we have learned is that it is crucial to have easy, fast and clear access to the help/donation page from every social media or webpage but that it is not necessary to ask people to donate in every post. Showcasing our work, our volunteers and our donors encourage people to spontaneously offer their support.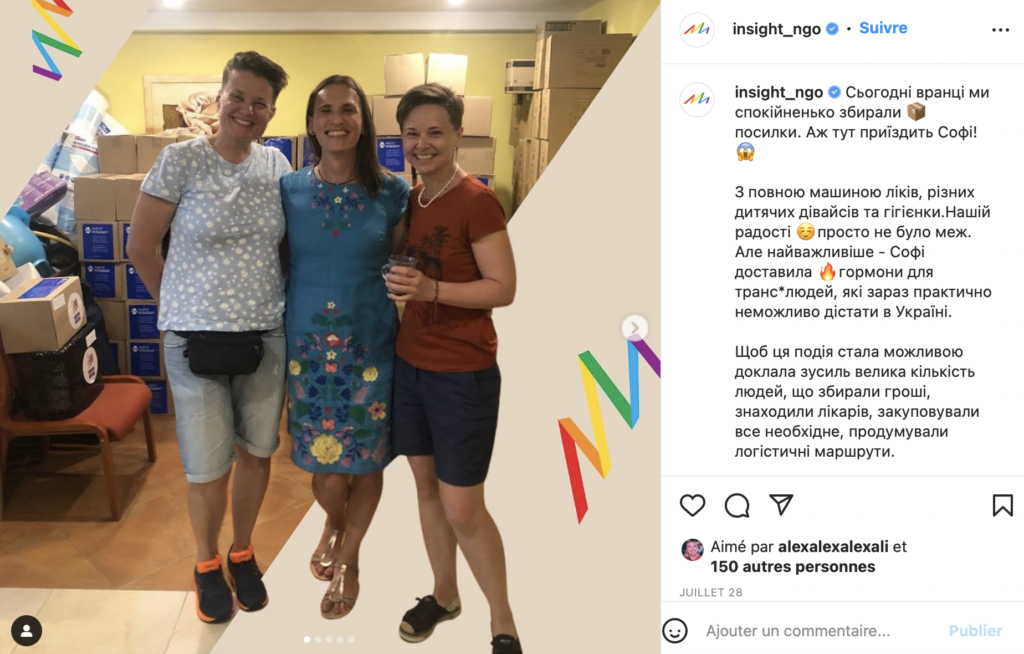 We have also noticed that audiences, especially Ukrainians, respond better to targeted fundraising calls on social media for specific programs such as how we provide psychological support during the crisis.
Reporting on how the funds are used is critical, especially when launching special calls. After 6 months, we published a comprehensive report, which was very fruitful.
Ukraine is going through hard times, so we respond with human, material and financial cooperation and solidarity. Since the beginning of the war we have learned to engage with national and international audiences in different ways and this is something that will surely continue to impact our communication and outreach strategies as and when the situation improves.