Film screenings are a great way to get people together, learn about different issues and encourage discussion. They also make for great 'add-on' events, as part of a broader series of actions, such as community debates and speeches, public demonstrations and creative/community activities.
There are many resources on best LGBTQI++themed films, as this good list of 30 best films of the 2010s
We thought we'd bring you here a list of documentaries, which might be more interesting to launch a political discussion.
The list could potentially be endless, so this is just a short selection to keep you going. We aim to update this list regularly so for any contributions, please write to contact@sogicampaigns.org
For more resources, check out the comprehensive list on wikipedia
GLOBAL SOUTH AND EAST
GOD LOVES UGANDA
A popular choice for IDAHOT events, this documentary takes a critical look at the role of US evangelical churches in fueling the persecution of LGBT communities in Africa.
(Uganda)
CALL ME KUCHU
Another popular choice for IDAHOT events, Call Me Kuchu portrays the last year in the life of courageous Ugandan activist, David Kato, who worked tirelessly to challenge state-sanctioned violence against LGBTI communities, while combatting vicious persecution.
(Uganda)
BORN THIS WAY
More people are imprisoned each year for homosexuality in Cameroon than any other country in the world. With intimate access to the lives of two young gay Cameroonians, the 2013 documentary sketches a vivid portrait of day-to-day life in modern Africa. Lyrical imagery, devastating homophobia, glimpses of American culture and a hidden-camera courtroom drama coalesce into a story of what is possible in the global fight for equality.
(Cameroon)
BEYOND THE PINK CURTAIN
Homophobia remains an institutional practice in Eastern Europe, even after the fall of Communism. Other films suggest a Pink Curtain has replaced the Iron Curtain, but is the West in any position to pass judgment? This critically acclaimed, 2009 documentary film explores these issues. "Informative and insightful… fosters a pan-European LGBT consciousness" – Amnesty International
'Global Gay' follows this battle for decriminalization through the lives and work of some of its fearless pioneers, providing a vibrant chronicle of the growing global social movement. In the words of Ban Ki Moon, "The time has come". Filmed in Russia, Cuba, Cameroon, Nepal and South Africa.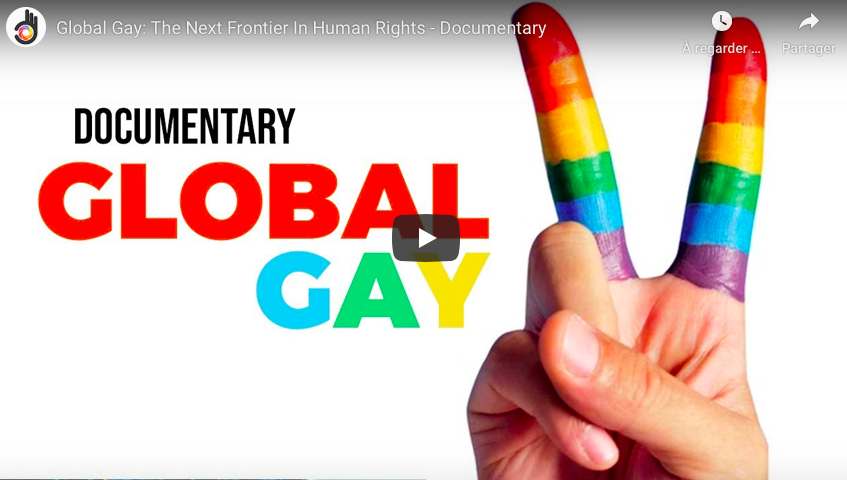 CHAVELA
CHAVELA is the captivating look at the unconventional life of beloved performer Chavela Vargas, whose passionate renditions of Mexican popular music and triumphant return to the stage late in life (including coming out as a lesbian) brought her international fame.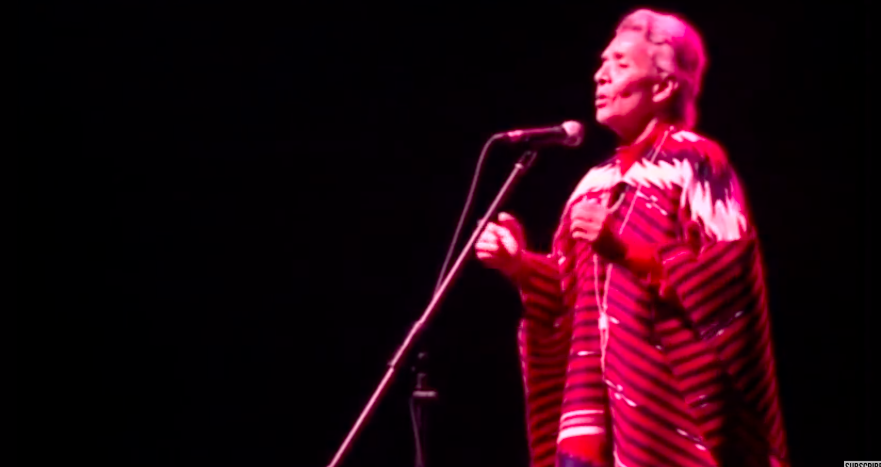 China's most prolific homosexual filmmaker presents a comprehensive historical account of the queer movement in modern China. This 2008 film documents the changes and developments in Lesbian/Gay/Bisexual/Transgender culture that have taken place in China over the last 80 years. Unlike any before, this film explores the historical milestones and ongoing advocacy efforts of the Chinese LGBT community. Widely acclaimed by critics, the film was awarded best documentary at Turino's and Lisbon's LGBT Film Festivals.
---
FAITH
FOR THE BIBLE TELL ME SO
A comprehensive look at homosexuality and its perceived conflict with Christianity, as well as various interpretations of what the Bible says about same-sex relationships.
(United States)
 A JIHAD FOR LOVE
A positive portrayal of coexistence between Islam and homosexuality
(12 Countries including Saudi Arabia, Iran, Iraq, Pakistan, Egypt, Bangladesh, Turkey, and India)
For a gay filmmaker, filming in Saudi Arabia presents two serious challenges: filming is forbidden in the country and homosexuality is punishable by death. For filmmaker Parvez Sharma, however, these were risks he had to assume as he embarked on his Hajj pilgrimage, a journey considered the greatest accomplishment and aspiration within Islam, his religion. He brings back the story of the religion like it has never been told before, having endured the biggest Jihad there is: the struggle with the self.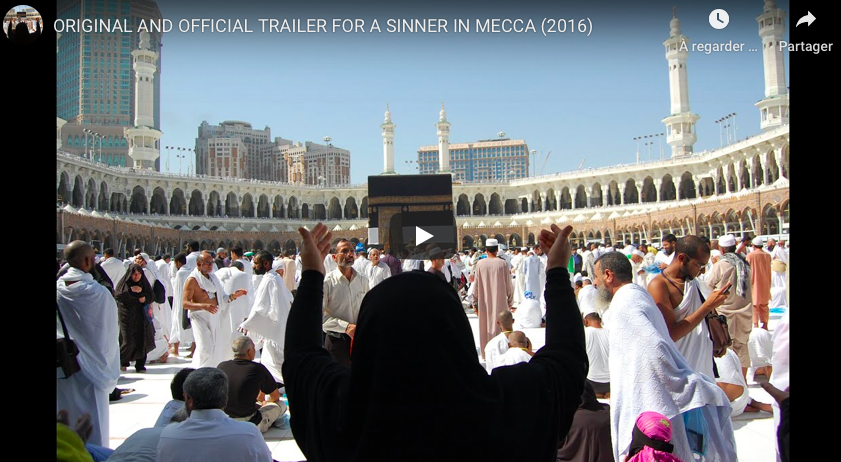 THE MORMON PROPOSITION
A provocative 2010 documentary exposing the Mormon Church's involvement (via The National Organization for Marriage) in the obstruction of same-sex marriage legislation across the country. Director Reed Cowan, with his fellow filmmakers, experienced first-hand what it was like to grow up gay in Utah in the Mormon faith, then turned their attention to the historic campaign by the Mormon Church to pass Proposition 8 in California. The film is their emotional outcry to what they found.
(United States)
TREMBLING BEFORE GOD
A revealing look at gay and lesbian Orthodox and Hasidic Jews who struggle to reconcile their sexual identities with their devout faith.
---
FAMILY
Kids being raised by same-sex couples are growing in numbers worldwide. We are in a Gayby-Boom. But who are these kids? What do they think about having same-sex parents? And do they face different issues to other kids? At a time when the world is debating marriage equality, these questions are more pertinent than ever. Told from the perspective of the kids, Gayby Baby is intimate and sometimes humorous account of four children and their families.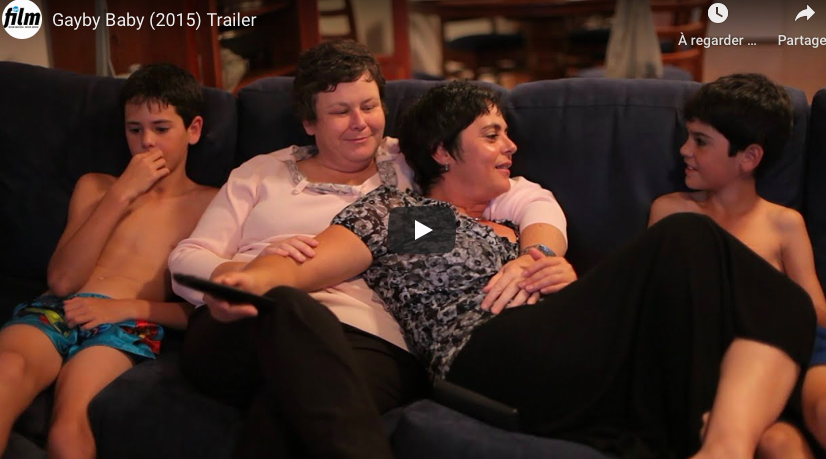 An engaging encounter with mothers and fathers in Turkey who, not only accept their LGBT children, but have taken the next step of sharing their experience with other families and the public.
(Turkey)
---
BULLYING
BULLIED
A documentary film which chronicles one student's ordeal at the hands of anti-gay bullies and offers an inspiring message of hope to those fighting harassment today.
(United States)
BULLY
A powerful and provocative documentary which can serve as important advocacy tool for teachers and educators seeking to tackle bullying.
(United States)
---
MARRIAGE EQUALITY
This award-winning documentary boldly examines the controversial and challenging issues facing African American communities on gay civil rights, campaigns for/against marriage equality and in particular the role of faith institutions.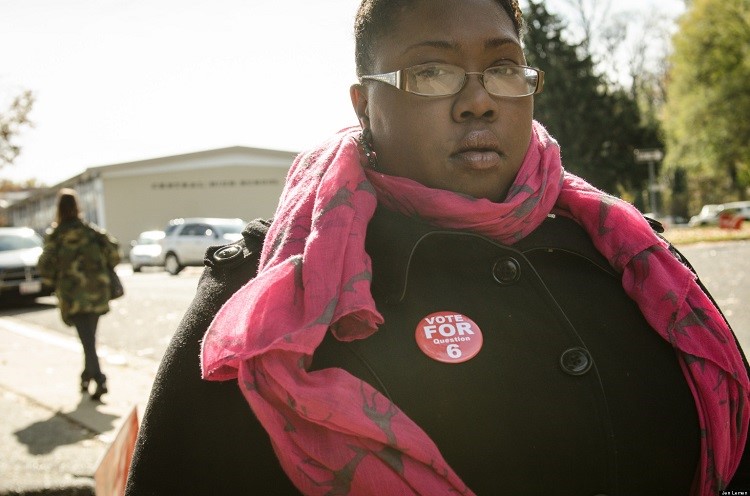 THE FREEDOM TO MARRY
One of the most surprising things about the same sex marriage movement is that, actually, it was carefully planned and orchestrated over decades. THE FREEDOM TO MARRY is an intimate and epic documentary which goes behind-the-scenes to reveal the inner workings and key players of this historic civil rights battle.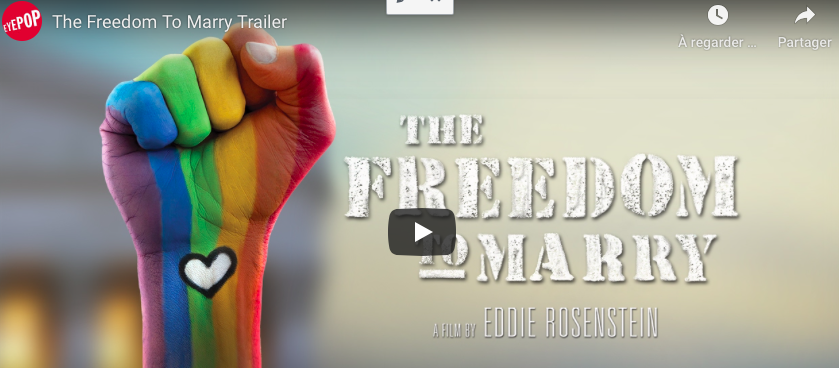 BRIDEGROOM
An emotional portrait of the journey of two young men in a loving and committed relationship, and of how people living without the legal protections of marriage can find themselves completely shut out and ostracized.
(United States)
---
GENDER DIVERSITY
This landmark documentary provides a vibrant snapshot of the 1980s through the eyes of New York City's African American and Latinx Harlem drag ball scene.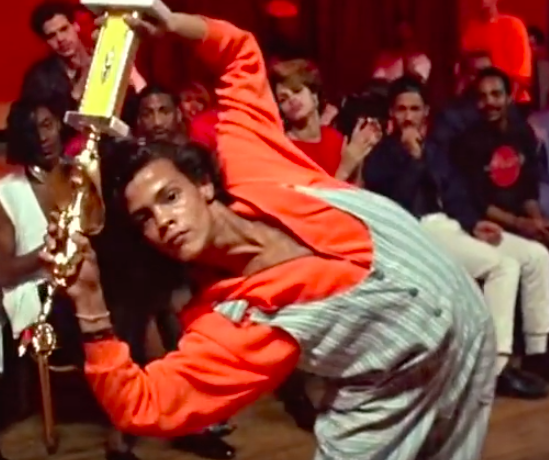 An affecting and honest portrait of four transgender men as they prepare to step on stage at the only all-trans bodybuilding competition in the world. Pushing beyond the expected tropes of tragedy and hardship in transgender lives, this hopeful documentary reveals unexpected truths.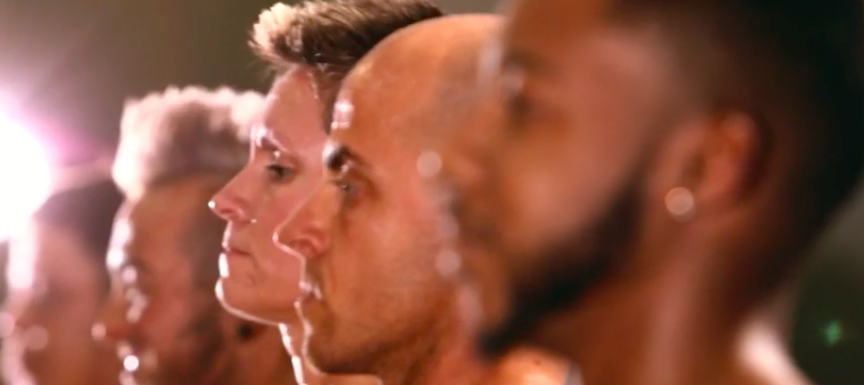 SHE'S A BOY I KNEW
Gwen Haworth documents her male-to-female gender transition through the voices of her parents, sisters, best friend and wife. The film explores the relationships of a family who unexpectedly find their bonds strengthening as they overcome their preconceptions of gender and sexuality.
(Canada)
MORIR DE PIE (DIE STANDING UP)
This is the inspiring story of Irina Layewska, a tireless fighter in the war for personal freedoms, who continues to work for progressive causes from her wheelchair despite a severe disability. But it's also the love story of Irina and her partner Nelida, whom she married as a man. Irina was born into a male body; she grew up idolizing Che Guevara and spent much of her young life fighting in the Cuban solidarity movement. They bravely open a window on their most personal moments, as they live to the fullest a life that neither of them could have ever imagined. Winner: Best Mexican Documentary, Guadalajara Film Festival, 2011.
(Mexico)
VALENTINE ROAD
A closer look at the heartbreaking circumstances which led to the shooting of eighth-grade transgender student by her classmates, and its aftermath.
(United States)
A SELF-MADE MAN
A feature-length documentary which takes a candid look at what it means to be transgender, told via an intimate portrait of trans youth advocate, Tony Ferraiolo.
(Unites States)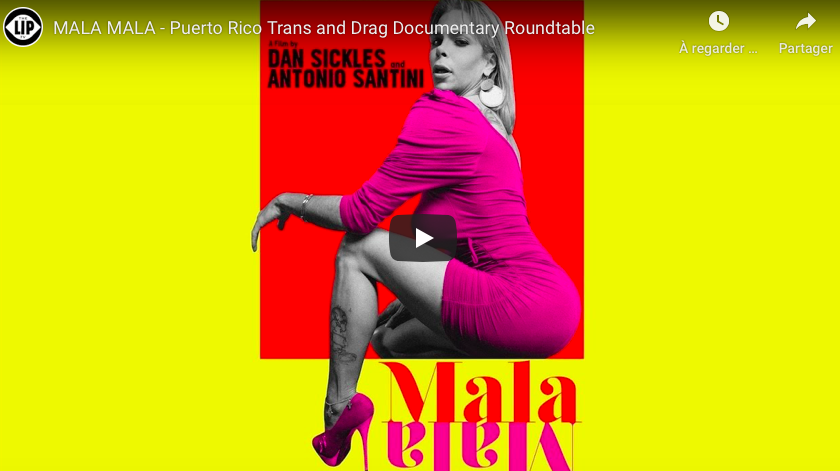 MALA MALA, the electrifying documentary on a LGBT and drag community of performers in Puerto Rico is showcased in this roundtable conversation with performers and filmmakers, Dan Sickles and Antonio Santini.
---
ART
The film explores people in Hollywood who were gay long before coming out was an option, to the generally deprecatory way gays, lesbians, bisexuals, and transgender people were portrayed on film and television.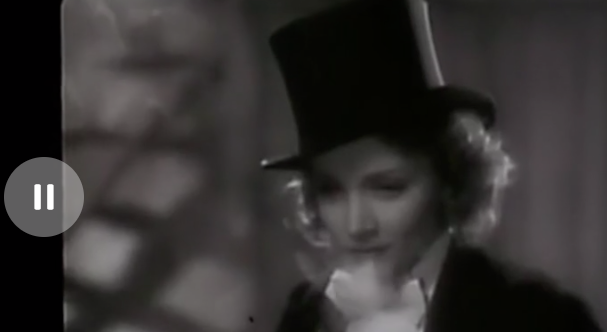 BIG JOY: THE ADVENTURES OF JAMES BROUGHTON
An inspirational encounter with one of the most poetic and pioneering queer activists in film and poetry, James Broughton, whose work inspired early gay liberation activists in the US – from grassroots to established artists, philosophers and educators of the time.
(United States)
---
ACTIVISM
Founders of the modern lesbian rights movement, Del Martin and Phyllis Lyon were partners in love and political struggle for more than fifty years. This film reveals Del and Phyl's passionate public activism as well as their charming private relationship.
When Martin and Lyon courageously launched the Daughters of Bilitis in 1955, it became the first public organization for lesbians in America. With incisive interviews, rare archival images and warmhearted humor, No Secret Anymore traces the emergence of lesbians from the fear of discovery to an expectation of equality.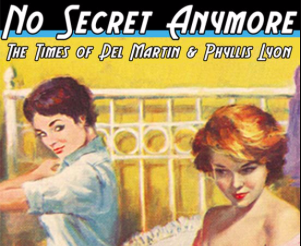 Chronicles George Takei's fascinating personal journey from Japanese American internment camp to his iconic and groundbreaking role as Sulu on STAR TREK, and his rise as an pop culture icon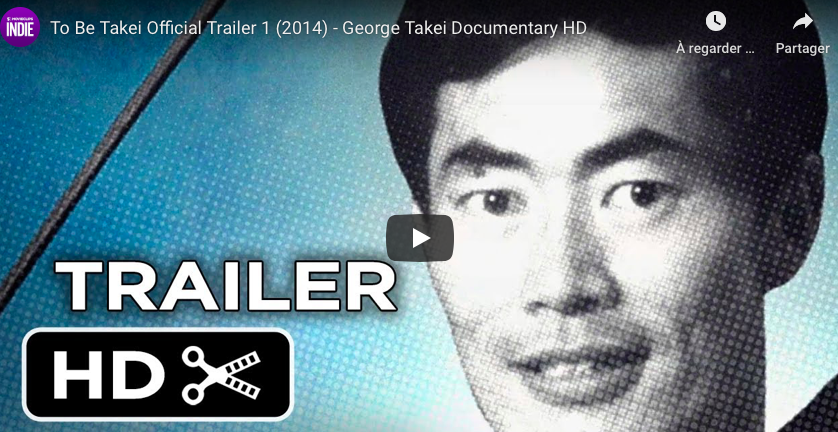 An Olympic athlete; a gay activist; a boy with hemophilia; a recovering heroin addict; a closeted Navy commander: five very diverse lives that shared a common fate. Their lives – along with thousands of others – are woven together in a giant memorial patchwork quilt that is solemnly unfolded in the U.S. capitol to protest the government's refusal to respond to a growing epidemic. Common Threads tells the powerful story of the first decade of the AIDS epidemic in the U.S.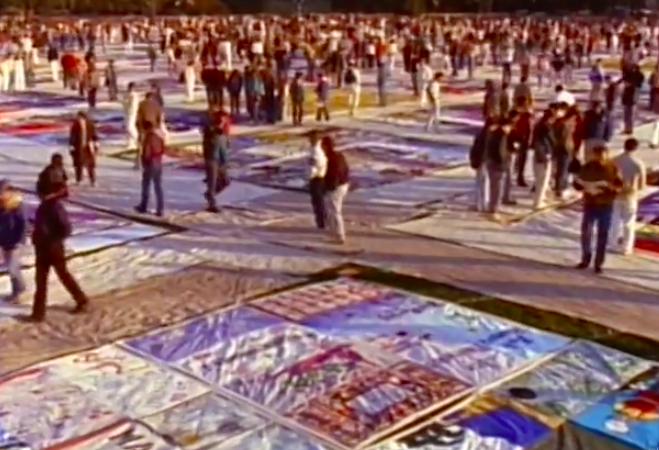 ENVISIONING GLOBAL HUMAN RIGHTS
Envisioning Global LGBT Human Rights is an international research and participatory documentary film project, working to advance social justice and equality for LGBT (Lesbian, Gay, Bisexual and Transgender) people.
You are welcome to use the video shorts for educational and other work. Please contact us to obtain permission, by emailing envision@yorku.ca.
---
ELDERS
Before focuses on the lives of three gay seniors, but reminds us that while LGBT elders face a specific set of issues, aging and its challenges are universal. An affirmation of life and human resilience told with a refreshing humor and candor, Beforeconfirms that you are never too old to reshape society.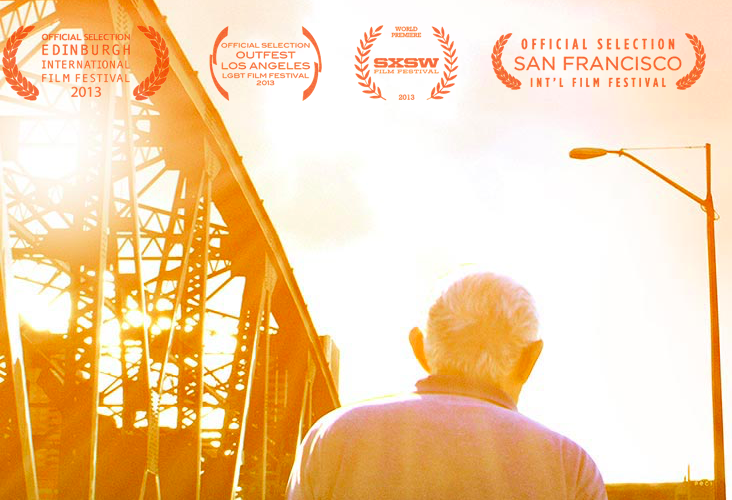 This French documentary on the lives of elderly French Gays and Lesbians was aclaimed by a 15 mn standing ovation at the 2012 Cannes Festival. Moving, fun, deeply human.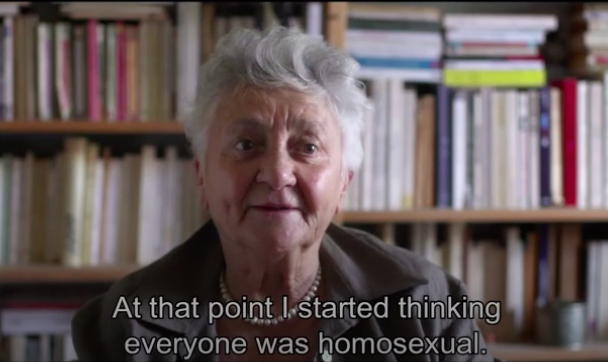 ---
HISTORY
The film chronicles the lives of several gay men and one lesbian who were persecuted by the Nazis. The gay men were arrested by the Nazis for the crime of homosexuality under Paragraph 175, the sodomy provision of the German penal code, dating back to 1871. All in all, around 140,000 men were convicted under the law. Thousands died in concentration camps.
David Weissman's WE WERE HERE revisits the San Francisco of the '80s and '90s, using the city's experience with AIDS to open up a conversation about both the history of the epidemic and the lessons to be learned from it. Yet the film reaches far beyond San Francisco and beyond AIDS itself as it illuminates the power of a community that comes together with love, compassion, and determination.